PLAN A PARTY AT BALTIC ART STUDIO!
RECOMMENDED FOR
Birthday parties, family holidays, networking events, friends night outs, bachelorette parties, special occasions
Convenient time of the day
Free supplies and tools
Blue line, buses No. 56 & 78

15 min by car from downtown

Nearby parking
Wednesdays and Fridays 7pm-9pm
Saturdays and Sundays by appointment.
Please note before purchasing!
Class registrations and gift certificates expire 3 months after the purchase date.
Gift certificates and purchased classes are not exchangeable and are not cash
redeemable.

If you must cancel, class fees are refundable if we are notified at least 24 hours
before a scheduled time. You must call or email to cancel the class. There is no
refund for missed classes without prior notice.
PICK A THEME FOR YOUR PARTY!
Introduction of glass fusing craft for beginners. A 3″x3″ size holder for your jewelry or mini soap as a beautiful decoration of your home interior.
$55 per person
min group –  6 persons
max group – 12 persons
One of a kind pendant or a pair of fused glass earrings. Design and fuse colorful glass into a unique jewelry to complement your every day style.
$75 per person
min group –  6 persons
max group – 12 persons
The most popular class in 2021
A 6″x6″ size angel, flag, favorite flower or an abstract becomes a radiant sun cather just in two hours.
$90 per person
min group –  6 persons
max group – 12 persons
A four-piece sushi dish set is the outcome of this two-hour glass fusing class. Make your sushi party table original and welcoming to wine & dine.
$110 per person
min group –  6 persons
max group – 12 persons
A set of 4 fused glass coasters for your get togethers and tea drinking rituals.
$110 per person
min group –  6 persons
max group – 12 persons
This is a beginners stained glass class. At the conclusion of the 4 hour class, you will have learned all the steps needed to make a beautiful stained glass art piece, and you will have something you can proudly display in your own home.
#7 INDIVIDUAL CLASS WITH INSTRUCTOR

Class recommended for beginner to advanced level students. Practice stained, fused and painted glass techniques one-on-one with the professionals of the craft.
$90 per 1 hour
Min – 2 hours, Max – 4 hours per class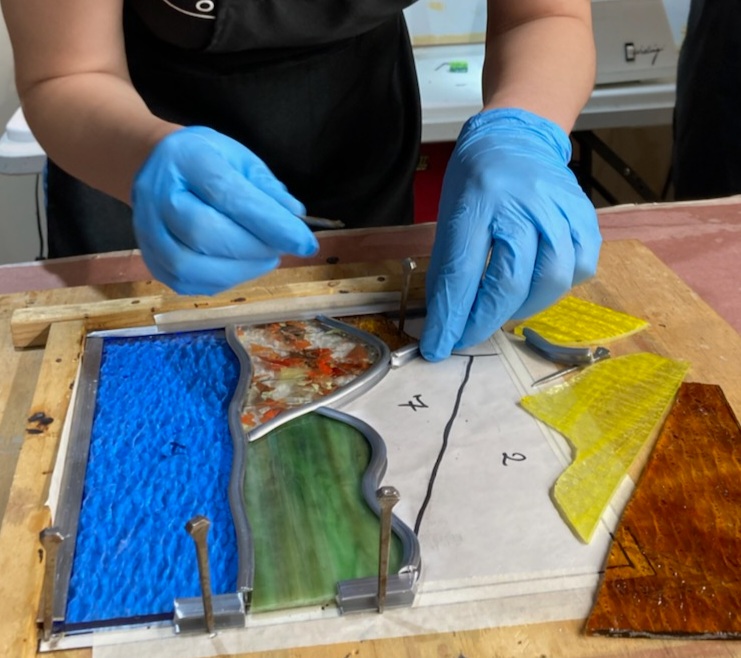 Saturdays from 10am to 2pm Baltic Art Studio Open Hours. We invite advanced students or those who attended our classes at least a few times and are familiar with techniques to use our space and some equipment to work on their own fused or stained glass projects. Supplies for the 10" x 10" project will be provided. 
You must register in advance by calling 773 526 1127.
1h – $45
2h – $90
3h – $135
4h – $180
Fused Glass Party. BYOB. Make your own holiday (Halloween, Thanksgiving, Christmas) glass ornament, glass jewelry or a set of coasters. Just bring your family and friends and have fun!
MUST CALL OR TEXT at 773 526 1127 to REGISTER!
Call 773 526 1127 to ask about available dates and time!
The tools and supplies will be provided by your instructor, who will coach you on safety in handling the materials. During the class, you will be introduced to glass design and fusing techniques. You will create fused glass ornaments for your pleasure and joy. After initial creation, it will take several days before your projects are ready because they need to be fired in a kiln prior to pick-up. Pick-up can be arranged at a mutually convenient later date, or please contact us for special arrangements. 
ADDRESS
4346 N Milwaukee Ave, Chicago, Illinois 60641
Baltic Art Studio is a professional member of the Stained Glass Association of America.