Founder of Baltic Art Studio and Glass Designer, MFA
EVELINA MAYNER arrived in the United States in 2007 after receiving her Masters of Fine Arts from Vilnius University in Lithuania (Europe). Before relocating to the United States, she studied in Austria and lived in Germany, Italy, Russia and Ukraine. Upon arrival in Chicago, Evelina joined a team of glass restoration experts at an architectural arts firm on Chicago's North Shore. There, her experience included restoration work on historic landmarks of Chicago, such as the glass of the Tiffany Dome at the Chicago Cultural Center, the Art Institute of Chicago and the Chicago Museum of Science and Industry. Additionally, she has provided restoration work for various other public and private institutions, such as the New York Plaza Hotel. In 2010, Evelina Mayner and her father, Alfredas Sutkus, founded Baltic Art Studio. Evelina receives inspiration for her art through her travels abroad, exploring new cultures, and visiting museums and galleries worldwide.
In the words of Evelina: "I grew up in a Bohemian atmosphere, within my parents' circle of friends, who were famous European artists, architects, actors and filmmakers. From the time I was a little girl, there was no doubt in my mind that I wanted to be an artist, a decision that I don't regret to this day! Art adds meaning to my life, and gives me a way to express my deepest thoughts, feelings and emotions. Art is a way to express my inner feelings, that which I cannot express in words. Today, I consider myself lucky to be surrounded with the creative ideas of my clients, whose ideas and visions challenge me and give my life direction. In addition, I am blessed with an expert team of glass artists who transform my clients' creative visions into reality.
Co-Founder of Baltic Art Studio

Mr. Sutkus has more than thirty-five years of experience in a variety of glass art techniques. He relocated to the United States from Lithuania (Europe) in 1997. Upon arrival in Chicago, he joined a team of glass restoration experts at an architectural arts firm on Chicago's North Shore.
Mr. Sutkus spent more than fifteen years touching up masterpieces of C. L. Tiffany, J. La Farge, F. Z. Zettler, F. Mayer, L. Sullivan, F. L. Wright, and many others. In addition to the glass arts, he is also passionate about aviation engineering. Since he was a child, he drew airplanes and knew every model and make of almost every existing airplane. After graduating college, his first job was airplane mechanic at a local airport. Later in life, Mr. Sutkus became a licensed pilot and parachute enthusiast. He is also passionate about traveling. He doesn't need much to travel, just his backpack and a camera. To date, he has visited all of the National Parks in the United States and all major European cities. He spends weekends taking road trips and discovering America's hidden travel gems.
In the words of Mr. Sutkus: "I am honored to play an active role in the historical preservation of glass art masterpieces as I restore them and immortalize their beauty for future generations to enjoy."
Owner of ZWS Studio. Glass Designer, Restorer and Technician.

ZENONAS VAICEKONIS is a stained glass designer and founder of ZWS glass art studio in Lithuania (Europe). After he graduated from the College of Arts, Zenonas worked as a stained glass restorer and designer for the Heritage Preservation Organization in Lithuania. He is fascinated with glass technology and studies glass chemistry and physics to be on top of what is going on in the glass world. He enjoys sharing his inventions with his art students and colleagues.
In the words of Mr. Vaicekonis: "From the first time that I held a glass cutter in my hands, I understood how fascinating glass technology is and that the possibilities of glass work are endless. Since then, I've focused on staying on top of the latest glass technology. It gives me inspiration to create new, increasingly sophisticated and expressive glass art works". Mr. Vaicekonis has a big family. He enjoys spending time with his beloved wife and colleague Rima, and their three sons. They are fans of Lithuanian folk culture and often attend Lithuanian folk festivals, craft fairs and other events.
Glass Designer and Graphic Designer of ZWS Studio

RIMA VAICEKONIENE is a glass artist and the graphic designer at ZWS studio in Lithuania (Europe). Rima's work is recognizable by her attention to detail and precision. She doesn't aim for quick results. Rather, she waits patiently for hours until she is satisfied with the final product. Many of her glass ornaments and decorative interior elements can be found in galleries and in the interior design of homes.
She is also passionate about nature. Mrs. Vaicekoniene says: "I enjoy nature walks. I can see how the sun rays are joyfully playing in the water, on the leaves of trees, how they reflect in windows, and even in people's eyes. This is what inspires me to create glass art works that reflect the sunlight, spread joy and please the eye."
Besides her talent for art, Rima enjoys caring for her big family. Her house filled with art and crafts and her garden is always full of blooming plants and flowers. She often spends her time working alongside her husband Zenonas in their glass art studio.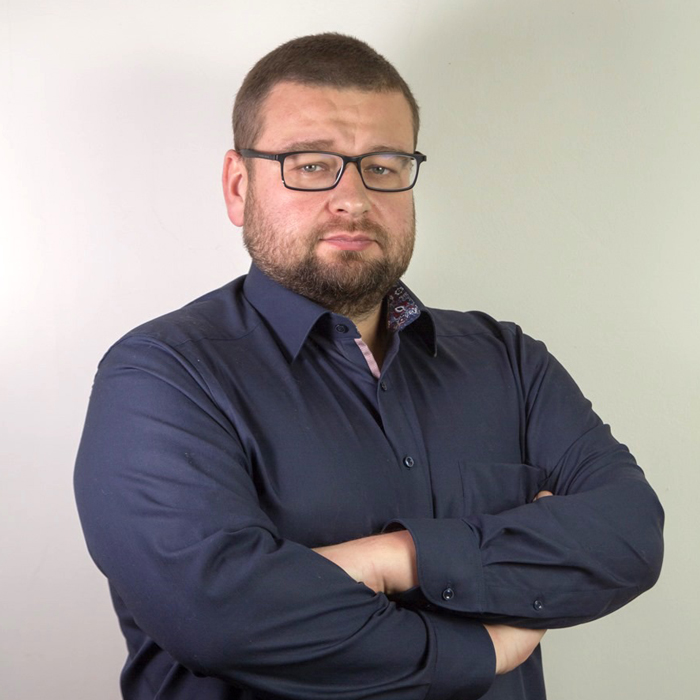 Founder of LASMAN Jewelry, Mural Painting Restorer, MFA

MANTVYDAS LASINSKAS graduated from Vilnius University in Lithuania with an MA in Art History and mural painting (fresco) restoration in 2006. For several years after graduation, he worked restoring mural paintings. Later, he founded LASMAN Jewelry in the capital of Lithuania, Vilnius, where his team creates unique and custom jewelry pieces.
Mr. Lasinskas was born into a family with a long line of artists. His parents are well-known graphic design artists. He grew up in the Lithuania capital city-Vilnius, steps away from museums and theaters. His experience as a child in these surroundings later impacted his professional life and work. Mr. Lasinskas' inspiration is his family – he created his very first necklace for his beloved wife Milda. Upon receiving it, she was thrilled and encouraged him to continue to create. Since then, he has successfully produced and sold out numerous collections. He marvels at the uniqueness of his clients – and creates custom pieces allow them to express unique aspects of their character, whether it is courage, sophistication or luxury. Any woman who wears Lasinskas Jewelry creations is guaranteed to stand out in a crowd, as all of his pieces are unique and one-of-a-kind.
Founder of Glass Labyrinth Studio and Glass Artist, MFA

Mr. Vitkauaskas' first acquaintance with stained glass happened when he was five years old. He broke a stained glass window while throwing a stone into a pigeon. His first thought was – colored glass is so beautiful! The pigeon wasn't hurt, but the experience of breaking colored glass left a significant mark on his artistic development. Mr. Vitkauskas started working with stained glass when he was 17 years old. Several y
ears later, he deepened his understanding of glass while working alongside masters in the Vilnius (Lithuania) Stained Glass Guild. 
Later, while studying at Vilnius Art Academy, he began his first larger-scale project: creating the stained glass windows for Lithuania's presidential summer residence in the Baltic Sea resort town of Nida. Subsequently, he transitioned into working on private commissions in Lithuania, Russia, Spain and Denmark.
In 2003 Mindaugas emigrated to the United States where he continued in stained glass design at the Studio of Architectural Arts in Evanston, IL. Here, he was fortunate to participate in the restoration of stained glass windows made by L. C. Tiffany, John LaFarge, L. Sullivan and others. He also was commissioned to design two mosaic panels for St. Bernard Of Clairvaux Catholic church in Scottsdale, AZ. 
In 2008, Mr. Vitkauskas founded his studio "Glass Labyrinth
." Glass Labyrinth's spectrum of work varies from large scale religious and residential stained glass and mosaic projects to small painted glass miniatures. The entire process, starting with the artistic idea through the installation is accomplished with great attention to quality. The studio meshes European tradition with the American experience, and clients can expect the highest level of artistic creativity and superior craftsmanship. Years later, the artist still believes that glass still is an inexhaustible source of inspiration and is the singular, most powerful tool of artistic expression. 
INGA LASE has oven ten years of experience in marketing and management work. She holds a degree in Business Management and Administration from the Lithuanian University of Sports in Vilnius, Lithuania (Europe). After graduation, she spent several years providing administrative services for municipal organizations. In 2007, she shifted to her current focus of developing tourism and business in the European capital city of Vilnius, Lithuania. In the summer of 2018, Mrs. Lase joined the Baltic Art Studio team. Currently, she enjoys creating new partner projects in various European countries and in the United States.
Mrs. Lase is a proud mother to three beautiful girls. She says: "my daughters are the source for my motivation, happiness and joy in life." She also enjoys traveling with her family in their home country of Lithuania. "I want to share with my daughters my pride in my Baltic roots and heritage. Our family's travels provide me an opportunity to give my daughters a view into the world of our ancestors, and to cultivate their love for our shared heritage and traditions. Hopefully, as my daughters grow to know our own country and history, they will be better equipped to appreciate the uniqueness of other cultures' history and traditions."
ADDRESS
4346 N Milwaukee Ave, Chicago, Illinois 60641
Baltic Art Studio is a professional member of the Stained Glass Association of America.